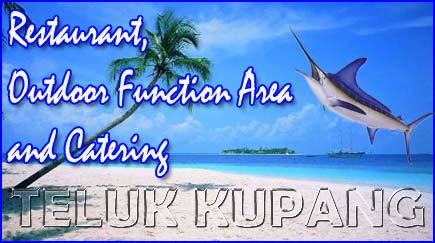 Teluk Kupang Catering!!!!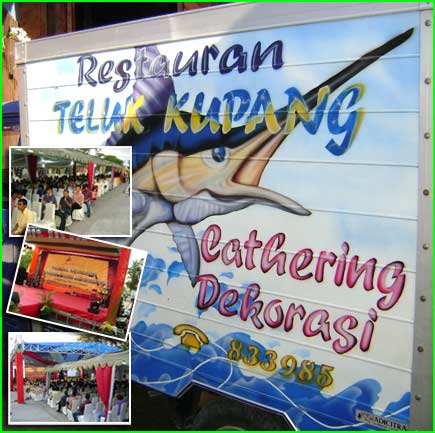 Teluk Kupang restaurant is the perfect place to dine whether it's for lunch or dinner with an extensive menu complete with fresh seafood dishes.
The indoor - outdoor settings are fresh and relaxing atmospheres with a fresh sea breeze a given. Private individual bungalow style dinning or large group bookings for smorgasbord feasts.
The huge outside area is great for your children to play in a safe and enclosed environment that has it's own play area to keep them occupied for hours.

The perfect place for the perfect Wedding
Teluk Kupang is the perfect location for that special day in your life. The outdoor area is completely covered and can cater for more than 2500 guests in a beautiful tropical setting.
A diverse dinner menu with certain "Manado Dishes" means your party will shine above the rest with delicious meals enjoyed by everyone. Different cultural, ethnic and religious concerns are also strictly catered for and all food is Hal 'al during the event to ensure your guests have a wonderful time.

Conferences and Special Events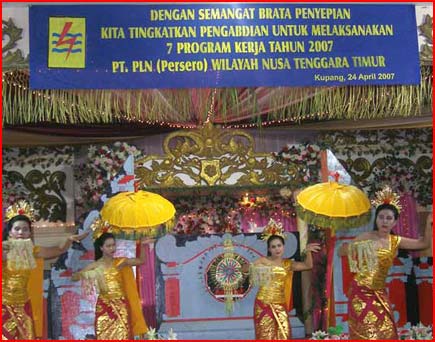 Teluk Kupang is so large, it's not unusual for companies to have conferences and special events here. From meetings to parties, Teluk Kupang is ready to handle your special occasion, so sit back and enjoy it while Teluk Kupang arranges everything.