The Founder

The Founder of
the Dedari Women's and Children's Hospital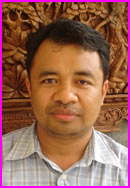 Dr. Dewa Putu
Sahadewa SpOG
More Information
Just Opened, the NEW Rooms and Garden Area of RSIA Dedari.
New rooms and a central fresh and beautiful garden helps recovery.
With a simple style, the Private Practice Room is a pleasure to visit.
Complete with USG, it will allow expecting mothers and fathers the chance to see and feel the presence of their child.
Complete with a small cafeteria, Dedari has a selection of light foods and drinks available to the family and visitors.
The comfortable and clean delivery room is complete with the most modern of pre and post natal equipment(CTG).
Expecting mothers will feel relaxed when giving birth in the beautiful Dedari Maternity Clinic.