At A Glance











More Information


ELMYLIAHOTEL.COM
Elmylia Hotel & Lounge is located in the heart of Kupang's business district and has a warm and relaxed atmosphere.
With Standard, Superior and Deluxe rooms available, there is something for everybody.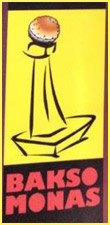 Bakso Monas 24hr Restaurant
Bakso Monas is a great place to have breakfast, lunch or dinner with an assortment of Indonesian dishes on the menu in a modern and comfortable setting.